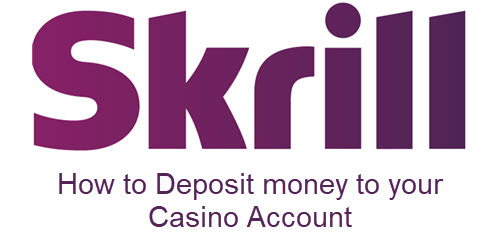 Skrill can be used for a variety of things, including:
– Paying for goods and services online
– Making deposits into online accounts, e.g. your forex trading account (IE AVATrade) or other online account.
– Buying and selling cryptocurrencies
– Transferring money to friends and family
– Receiving money transfers from friends and family
Exactly which services are available, and what they cost, depend on the countries involved.
Clients in certain countries can get a prepaid Skrill MasterCard and a Virtual Skrill Card. The prepaid Skrill MasterCard can be used as a normal prepaid MasterCard online and offline and works in ATM:s.
How to open a Skrill account
1.) Go to Skrill´s site online and select Register.
2.) Follow the on-screen instructions. You will be required to enter personal information such as name, country, e-mail adress and currency.
3.) Add a password.
4.) Click "Register now".
The first time you log in, you will be asked to set up your security PIN.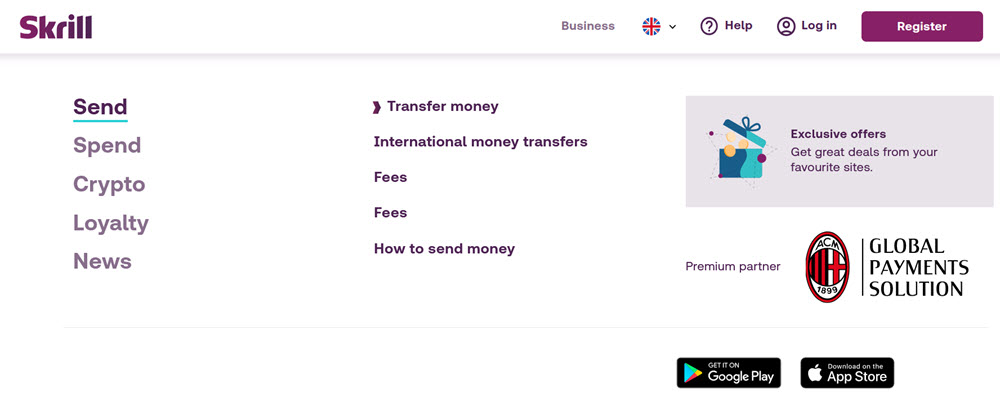 How to fund a Skrill account
Funding the account is a part of the verification process. Verifying is not mandatory, but will give you more freedom to use your Skrill account and reduce the risk of it being frozen to comply with anti-fraud regulations and similar.
Examples of how you can fund your Skrill account:
– Bank transfer
– Credit card
– Debit card
– Paysafecard
– Trustly
– Klarna
– The e-wallet Neteller
– Bitcoin or Bitcoin Cash
Verification process for a private Skrill account
Examples of documents that you may be asked for during the verification process.
– Colour copy of your photo ID, e.g. valid passport or valid driver´s license
– Copy of utility bill or bank statement to prove your address (max 3 months old)
– Sending in a picture of yourself holding up your ID
If you have a Facebook account, it can help with the verification process.
Skrill Multicurrency Account
If you frequently use at least two different currencies, it might be beneficial for you to open a multicurrency account with Skrill.
Skrill supports 40 (non-crypto) currencies.
Skrill Prepaid MasterCard
It costs €10 to apply for a physical Skrill Prepaid MasterCard.
Having such as card then costs €10 per year.
You can use the card to withdraw money from ATM:s but this will cost 1.75%.
Using the card to pay for goods and services (not withdrawing money) does not cost a fee. You can pay online and offline. Please remember that some merchants add a fee for MasterCard payments.
Virtual Skrill Card
You can apply for and get one Virtual Skrill Card without paying a fee.
If you want more than one card, each new card costs €2.50.
Cryptocurrency
A Skrill account can be used to buy and sell cryptocurrencies.
For transactions larger than €100, you pay a 1.5% fee.
For smaller transactions, the fee is €0.99 – €1.99.
It is a good idea to hold a Euro account if you want to buy and sell cryptocurrency because Skrill charges foreign exchange fees when non-Euro accounts buy and sell cryptocurrency.
International transfers
Funding an international transfer
At the time of writing, these are the permitted countries for funding an international transfer with Skrill Money Transfer.
Europe: Andorra, Austria, Belgium, Bulgaria, Cyprus, Czech Republic, Germany, Denmark, Spain, Estonia, Finland, France, United Kingdom, Greece, Croatia, Hungary, Ireland, Iceland, Italy, Luxembourg, Lithuania, Latvia, Malta, Netherlands, Norway, Poland, Portugal, Romania, San Marino, Serbia, Slovakia, Slovenia, Sweden, Switzerland
Africa: Morocco, Tunisia, South Africa
Asia: Bahrain, Hong Kong, India, Israel, Jordan, Kuwait, Malaysia, Oman, Qatar, Saudi Arabia, Singapore, South Korea, Thailand, Turkey, Taiwan, United Arab Emirates
The Americas: Canada, Colombia
Oceania: Australia, New Zealand
Recieving funds
At the time of writing, these are the permitted countries for receiving funds from Skrill Money Transfers:
Europe: Austria, Belgium, Cyprus, Estonia, Finland, France, Germany, Greece, Ireland, Italy, Latvia, Lithuania, Luxembourg, Netherlands, Malta, Monaco, Poland, Portugal, San Marino, Slovakia, Slovenia, Spain, United Kingdom
Africa: Kenya
Asia: Bangladesh, India (India to India transfers are not allowed), Indonesia, Nepal, Malaysia, Philippines, Sri Lanka, Thailand, Vietnam
Oceania: Australia