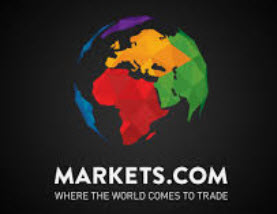 At Markets.com you can trade in stocks, forex, CFDs, ETFs, and more. Notably, Markets.com do not offer binary options or spread betting.
You can use several different trading platforms with your Markets.com account, including MT4 and Market's own proprietary platform.
As a member of Markets.com you get access to a wide range of tools and useful features, including a live news feed tailormade for traders.
A downside with Markets.com is the lack of customer support during weekends. Also, the Markets.com environment can be a bit thorny to navigate – especially if you are a novice trader. Last but not least, there is no support for auto trading.
Markets.com has been around since 2006 and is a well established trading site with a good reputation within the online trading community. Markets.com is owned by SafeCap Investments Limited, which is an indirect subsidiary of the gaming giant Playtech PLC.
Awards
Examples of awards won by Markets.com:
Short facts about Markets.com
Website: Markets.com
Minimum deposit: $100
Minimum trade: $2
Instruments: Stocks, CFD, Forex, Cryptocurrency, ETF
MT4 integration: Yes
Mobile trading: Yes, for iOS and Android
Demo account: Yes
Islamic account: Yes
Auto trading: No
Trade signals: No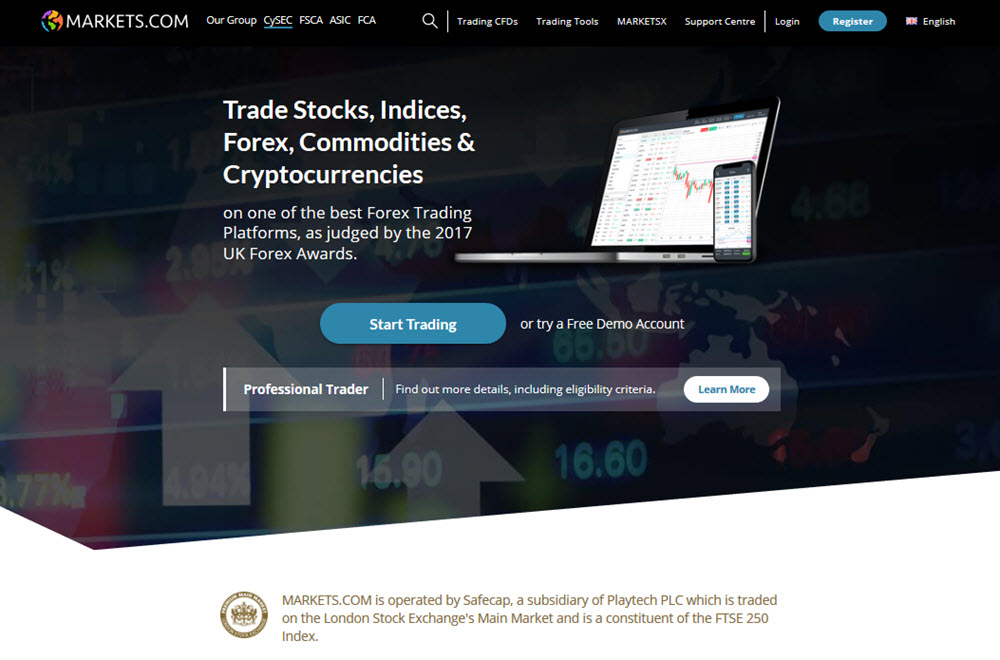 Contracts for Difference
Stocks spread: 0.1% var
FTSE spread: 1.2 pts
GBP/USD spread: 2 pips
Oil spread: 4 pips
Forex
BGP/USD spread: 2 pips
EUR/USD spread: 2 pips
EUR/GBP spread: 2.5 pips
Cryptocurrency
You can trade in six different cryptocurrencies here: BTC, BCH, ETH, LTC, XRP, DASH
BTC spread: 0.85%
ETH spread: 2.95%
Within the European Economic Area, the leverage is capped at 1:2. Outside this region, a higher leverage is available.
Regulation
Safecap is regulated by The Cyprus Securities and Exchange Commission (CySEC). Cyprus is a EU member, so EU regulations must be adhered to in addition to Cypriotic law.
For traders in South Africa, Safecap is regulated by the Financial Services Board (FSB) of South Africa.
Instruments and markets
Examples of what you can gain exposure to as a Markets.com trader:
Equity: Over 200 differnet shares. (Maximum leverage is 1:5.)
Foreign currency: Over 50 FX currency pairs, inluding majors, minors and exotics. For some pairs, the spread is as low as 2 pips. (In many regions, maximum leverage is 1:30.)
Cryptocurrency: Twelve cryptocurrency pairs. Examples of available cryptocurrencies are Bitcoin, Ripple, Litecoin, and Ether. (Maximum leverage is 1:2.)
Exchange Traded Funds: Over 30 different ETF:s. (Maximum leverage is 1:10.) Through these ETF:s you can gain exposure to a huge array of underlying assets.
Commodities: Well over a dozen commodities. (Maximum leverage is 1:10.)
Indices: Over two dozen indices. (Maximum leverage 1:20.)
Important: Markets.com do not offer binary options or spread betting.
Commissions, spreads, etc
Markets.com make money from the spread, and they do no charge you commissions or other trading fees. Because of this business model, the spreads at Markets.com is often somewhat high compared to other online brokers. When you compare different brokers with each other, don't forget to take all the costs into account. Sometimes a higher spread is well worth it to avoid having to pay commissions and other fees.
Important: For CFD trading, there is an overnight rollover fee.
Trading hours at Markets.com
The trading hours at Markets.com are pretty much industry standard.
Outside the non-trading holidays, all major FX pairs are available from Sunday 22:05 GMT to Friday 21:55 GMT.
Leverage
Maximum available leverage will depend on several factors, such as client classification, geographical location and the exact instrument.
Within the European Union, the law strongly limits how much leverage that can be offered to retail traders. For professional traders, the law is less strict and they are offered less protection.
For retail traders in the EU, the maximum leverage at Markets.com is 30:1 but only for certain instruments (low volatility, high liquidity). For cryptocurrencies, the leverage is very low.
Trading platforms
Markets.com have their own proprietary trading platform, but you can also use MetaTrader 4 and 5.
Markets.com's proprietary trading platform
This trading platform opens directly in your web browser, so you don't have to download and install anything on your computer. The interface is easy to navigate, and the environment doesn't feel cluttered despite the wealth of available tools and data.
The innovative trading cubes makes it easy to view numerous instruments at once.
Technical indicators and a real-time news feed are integrated into the platform.
You can alter the look of the main panel if you want to.
MetaTrader 4
If you want to use the "old" MetaTrader, i. e. MetaTrader 4, you need to contact the Markets.com customer support since this is only offered upon request.
MetaTrader 5
MetaTrader 5 is the updated and more modern version of MT4, and if you have used MT4 before, you will quickly feel at home with MT5 too.
A downloadable MT5 trading platform is available for both PC and Mac.
Trading on mobile devices
Mobile trading apps are available for iOS and Android.
Both apps include tools for charting and technical analysis.
A few things that we missed are alerts, news feed, economic calender, and the ability to add indicators to our charts.
Account types
Real Account (Standard Account)
This is the standard account for real-money trading at Markets.com.
Demo Account
With a Demo Account, you will trade using play-money. It is a great way of trying out the platforms and tools, and test various strategies without risking any real money.
Swap Free Account
This is a real-money account that operates in line with the Islamic Sharia principle of interest-free trading.
Transactions
Examples of accepted transaction methods:
VISA
MasterCard
PayPal
Skrill
Neteller
Bank wire transfer
Deposits
The minimum deposit is 100 USD of eqvivalent.
Withdrawals
The minimum withdrawal amounts:
€/$/£ 5 for Skrill, Neteller and PayPal
€/$/£ 10 for credit / debit cards
€/$/£ 100 for bank wire transfer
Markets.com doesn't charge any withdrawal fee.
Customer support
The customer support can be reached by email and live chat, and if you have a funded account, you can also use the phone support.
Customer support is only available five days a week (Mon- Fri), but during that period, it is available around the clock.
Customer support is available in 25+ languages.
Excluded countries
Examples of excluded countries:
USA, including Puerto Rico
Canada
Brazil
Belgium
Switzerland
Russian Federation
Israel
Turkey
Syria
Iran
Iraq
New Zealand
Malaysia
Indonesia
Thailand
Japan
Hong Kong
The Philippines
Traders can not use Markets.com from excluded countries.